Lowell Hardwood Flooring Company
Want attractive floors that will last a lifetime? Hardwood floors are the answer to your flooring needs, and our Lowell hardwood flooring company is here to provide the attractive flooring solutions you desire!
Hardwood floors are made from various hardwood materials such as maple, walnut, cherry, bamboo, and other sturdy woods. Each hardwood type comes with a specific hardness and durability level that can match certain types of rooms. Sadly, many people shy away from hardwood despite its benefits because of its price.
Fortunately, our hardwood flooring professionals at NC Flooring, can help you with your hardwood flooring needs and help you get them at a much more affordable price. Our team will explain why these floors work perfectly for your project and even help you find the most affordable hardwood flooring that will match your style and budget. We will also install it correctly in your space and make sure that you will be satisfied with our services.
Call NC Flooring at (980) 399-5226 for a Free Consultation and Estimate!
Durable Wood Floors that Last
Hardwood floors are a favorite by many homeowners because it can easily be restored, sanded, and refinished without problems. This ensures that you will be able to repair and revive your floors without having to replace them.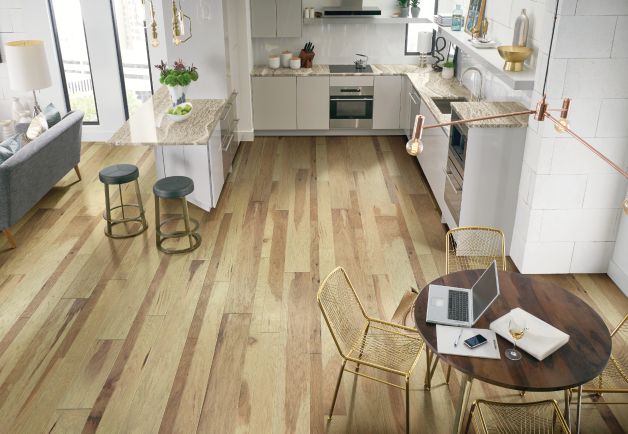 Because of its durable and flexible nature, hardwood floors have always been a favorite for many centuries. As years progress, this love for hardwood floors have paved the way for new techniques to be applied to create new hardwood floors that are affordable and long-lasting.
Having hardwood floors in your home also increases the value of your home, especially when you sell it. If you will be renovating or updating your flooring and would like to see what options you have, you definitely will need the expert advice of our Lowell hardwood flooring experts here at NC Flooring.
Your Wood Floor Specialists
NC Flooring is one of the most trusted Lowell, NC hardwood floor companies available for your home improvement needs.
When you reach out to us, our team will be with you from start to finish and provide high-quality flooring options that will fit any room, budget, and style. We can install custom-made wood flooring for any type of room in your home, including staircases, basements, and landings. Our team will also make sure the wood floor installation is seamless and long-lasting.
When it comes to the type of hardwood floors we can install, we have a lot of options available. From the various sizes of boards and wood colors to layout patterns and levels of gloss, we have the right products, skills, and services to accomplish the specific style you are seeking. Our team can also help you choose if you don't have a clue which type of flooring, pattern, or finish will best suit your needs.
Here is what you can expect when you reach out to our team:
1. Contact our team at (980) 399-5226. One of our dedicated flooring experts will reach out to you and schedule a free flooring consultation to find out more about your flooring project.
2.During your appointment, which will be done at your home or where your project is, our team will help you look into the various options available for your project, provide you with flooring samples, and give you expert advice if needed.
3. Once the project details are polished, we will provide you with the quote of our services and the flooring you want us to use for your space. You won't get charged for our on-site flooring quotes, and we guarantee that there are no hidden charges.
As one of the best wood floor companies in the industry, we aim to give our clients attractive and sustainable flooring that will last for a long time. Just contact our local hardwood flooring team, and we will be on hand to help you out.
Let's Talk- Free Consultation
If you want attractive, durable hardwood floors that last a lifetime or if you desire a customized wood flooring solution for your home, you need a Lowell hardwood flooring company that will guide you through the entire journey. With NC Flooring, our team guarantees that you will be able to choose from a wide variety of options that won't dent your budget and once we install them in your home, it will last a long time. We can even help you with your other home improvement projects.
Let us help you transform your room into the room of your dreams with the help of your new hardwood floors.
Call NC Flooring at (980) 399-5226 today for a Free Consultation and Estimate!