Mount Pleasant Hardwood Floor Repair
Hardwood floors are known for being durable and timeless. You can't easily damage these types of floors, and if there are some imperfections, they can be refinished. However, even hardwood floors become worn over time as they are used and get exposed to various elements that can damage them beyond repair.
If your hardwood floors get damaged, you can refinish them. But, if the damage is severe, you will need to get them repaired by a company that you can trust for such projects. Here at NC Flooring, we take pride in making sure that we do a perfect job that you will be happy with. Our Mount Pleasant hardwood floor repair specialists provide complete, professional wood floor repair and refinishing solutions.
We can also recommend other flooring solutions to your home if the condition of your floors is beyond restoration. We provide many flooring styles in various colors, styles, patterns, and shapes, which will work in any space and budget. If you want hardwood floors to make your space stand out and get the ones you have to be safe for everyone, our Mount Pleasant, NC team can help you out and give you the best flooring solution each time you reach out to us.
Call NC Flooring at (980) 399-5226 for a Free Consultation and Estimate!
When To Repair Your Hardwood Floors
While hardwood floors are very sturdy, there are times that they also need repairs from various elements that could damage them beyond refinishing. Time and constant use will also wear hardwood floors down to the point that they need to be repaired. But how can you tell if it's time to repair your floors?
Here are some of the signs that you should look for to determine if it's time to repair your floors:
Refinishing is no longer an option.
While you can refinish your floors to remove certain areas that have stains and minor damage, it can also cause damage to your hardwood often. Sanding, in particular, can wear the floors down until they become thin and easy to break.
Large marks and scratches.
Scratches and marks are unavoidable for any flooring type, and hardwood floors also show these damages. However, if you see that it covers a large area and there are chips or gouges on them, it is time to repair them. These damages can cause injuries if you step on them, and it can also open your floors to moisture damage.
Water damage.
Although hardwood floors are very durable, they are still vulnerable to water damage. Stains and warping can persist if hardwood floors are exposed to water or moisture for a long time. Refinishing the damage can be difficult, especially if the damage is too severe.
Nails are becoming visible.
If you see that the nails holding your floors down are starting to stick out, you should get your floors repaired. These nails can cause serious injuries, especially if they stub their toe or get snagged by the nails.
Wood discoloration.
Wood discoloration occurs when they are exposed constantly to the sun, refinished constantly, or if they are exposed to moisture. If they are not checked or noticed immediately, the damage may become severe to the point that the floors will become black.
Excess wear and tear.
If your hardwood floors are located in areas that have constant traffic, you will see wear and tear in them. To know if your hardwood floors have excess wear and tear, look at the quality of the wood stain and if they are starting to fade or wear away. You should also check if there are splinters and warped areas since it is a sign of tears.
Creaking floorboards.
Another important sign that you should look for if your floors need repair is if you hear creaking when you pass by the floor or if the wood panel is moving. If this happens, your floorboards may have serious water damage, or they have worn through time.
You just want something different.
Finally, you can get a hardwood floor repair if you are going to replace your floors with something new. There are a lot of types of hardwood floors that can work for any style and theme.
If you are not sure if your floors need repairs or what you can replace your floors with, our team is on standby to help you out. We can bring our samples along and also answer any questions you may have about replacing or repairing your flooring. Our Mount Pleasant, NC hardwood floor repair company is motivated and dedicated to delivering high-quality flooring solutions that fit your home, style, and budget.
Types of Hardwood Flooring Repairs
Once we assess the condition of your hardwood floors and determine what is needed, we will provide you with a quote on how much it will cost. We make sure that it is affordable and, at the same time, done correctly so that you won't have to worry about it being done without thinking about the quality and safety of its users.
Some of the repairs that we can do for hardwood floors include spot repairs, refinishing, tie floors together and reinstall the floors if they are moving. If we see that the floors can't be repaired anymore, we will provide you with expert advice and explain why it is better to replace the floors altogether.
Wood Flooring Repair Experts
When it comes to flooring solutions, NC Flooring is the one to approach because we are a full-service Mount Pleasant wood flooring repair, refinishing, and installation company. We will be with you from start to finish to make sure that you are satisfied with our work.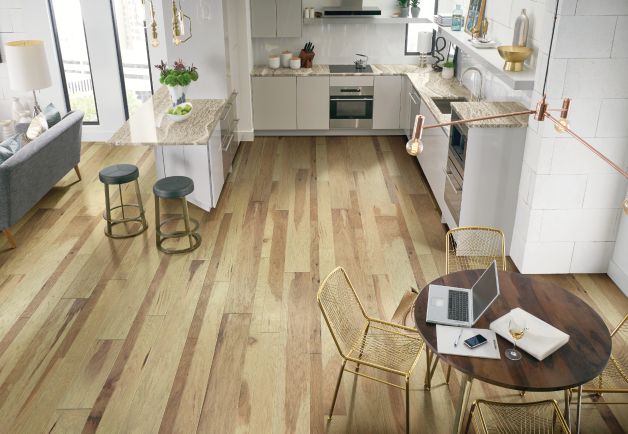 If you need any examples of our work, we can provide you with our product samples and even let you speak to our experts directly by visiting your space. Our experts can also provide smart recommendations in case you are uncertain about your options.
For our hardwood floor repairs, not only will our Mount Pleasant hardwood flooring repair team check how much repairs are needed and answer your inquiries, we will use only high-quality materials so that it blends well with the rest of the flooring, but it will also last a long time. It is also affordable as we will reach out to our partners to get the best materials that will match your style and funds.
Contact Today
If your hardwood floors are no longer looking as great as they should or have areas that require repairs, don't hesitate to contact our team. Here at NC Flooring, we take pride in making sure that the hardwood floors we install, repair, or refinish are perfect to your needs or preferences. We also provide expert advice to help you update your space in case you are considering revising your space's flooring.
We are also a full-service flooring company that can help you from the moment you ring us to the time we repair your floors. If you want to know how we can help, contact us today!
Call NC Flooring at (980) 399-5226 today for a Free Consultation and Estimate!