Lowell Hardwood Floor Refinishing
Although hardwood floors are known for being durable and timeless, they can also become dull and get scratched over time. Because of these signs, it can make your floors look unappealing and affect the overall look of the space. But all is not lost!
Fortunately, hardwood floors can be revived with the help of our Lowell hardwood floor refinishing company. When they are refinished, they will get their lost luster, and it can be done up to 10 times, depending on the hardwood floor's condition. There are also several ways to do floor refinishing for hardwood, which will work for certain types of hardwoods.
If you are confused as to how hardwood floor refinishing is done or if you are not sure if your floors only need refinishing, NC Flooring can assess it for you. Our team can visit your space, see what flooring solution fits your needs, and make the necessary recommendations. Once you are happy with our recommendations and quote, we can revive your floors without costing you a lot of money in the process.
Call NC Flooring at (980) 399-5226 for a Free Consultation and Estimate!
Should I Get My Wood Floors Refinished?
Hardwood floors can handle a lot of damage while still retaining their timeless image. However, you will still need to do regular maintenance to prolong their lifespan and sort out any damage that may affect the quality of the hardwood if it is not fixed immediately.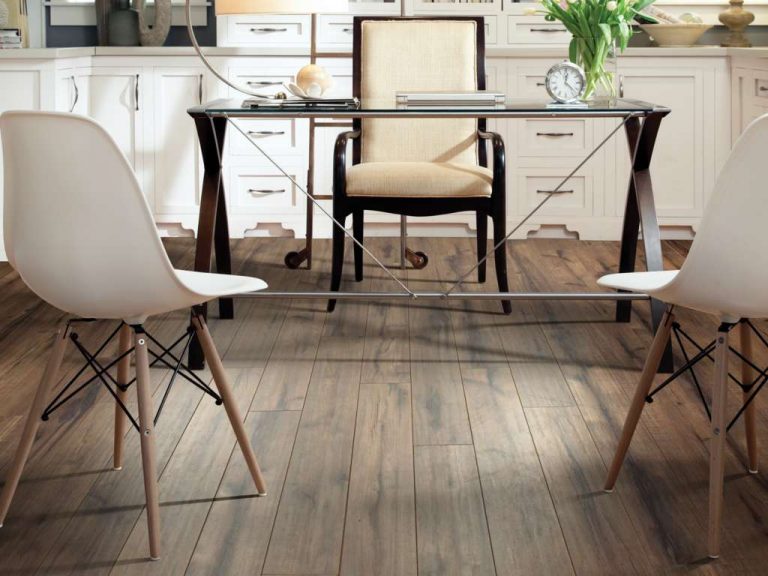 Here are some of the signs or problems you have to look for to know if it's time to get your floors refinished:
1. Water damage – Water can easily damage your hardwood floors, especially if it is not dried off immediately. If there is water damage on hardwood floors, it is important to find what is causing the problem and get it fixed. Water damage can cause hardwood floors to warp or buckle completely.
2. Deep scratches – Scratches are a common problem for any type of flooring, including hardwood floors. If you see one or two scratches, it's fine. But, if there are a lot of scratches and cover a wide area or if they look very deep, you need to refinish them. Leaving them alone can open them to other types of damages, such as water damage.
3. Large Chips – If you notice that there are a lot of chips in your hardwood floors, they must be repaired immediately. These chips can cause splinters and hurt anyone who passes through them.
4. Stains and Discolorations – Some hardwoods can stain or develop discolorations, especially if they were in contact with water or chemicals. Sunlight can also cause discolorations, especially if they are constantly exposed for long periods.
5. Worn and splintered areas – Overtime, there will be areas in your hardwood floors that will show wear and splinters, especially if they are in a high-traffic area. Splinters can cause injuries, and worn floors can expose them to moisture that can damage your floors further.
If you spot the following problems in your hardwood floors, it is time to get them refinished. No matter where you are in Lowell and what type of space you want us to work on, we can go to your site and get your floors back to life. Our Lowell, NC hardwood flooring refinishing professionals are dedicated to providing both quality service and craftsmanship.
Wood Flooring Refinishing Experts
Since we started in the industry, our Lowell hardwood floor refinishing experts have been assisting customers looking for various flooring solutions for their home and commercial spaces.
In hardwood floor refinishing, we can buff, sand, and refinish floors easily once we have assessed the condition of your hardwood floors. We will also offer our expert advice as to what can be done for your floors and finish the project efficiently and guarantee that it fits your standards.
If you need more explanations and even offer you examples of our work, we can deliver them without problems. We will come to you with our product samples and even show you examples as to why it is important to keep your floors in good condition through refinishing.
Call Today for Free Consultation!
If your hardwood floors have lost their luster, don't immediately call it a lost cause and get them replaced. They can still be revived with the help of refinishing. Our team can check your hardwood floors and give them a fresh breath of life through refinishing. We can also do other flooring solutions for your flooring projects, and we will be with you throughout the process so that the project will have an outcome according to your liking.
Want the right flooring team on your side? Our Lowell, NC hardwood floor refinishing experts are here for you!
Call NC Flooring at (980) 399-5226 today for a Free Consultation and Estimate!